The website may look very different to you when you see it for the first time, but we think you will find that it works better in every way. Here are a few things you may want to explore:
Menus
The menu structure has been completely overhauled. We simplified the choices and worked hard to make it easier to find the information you need. No more cluttered pages. No more obscure titles or sub-directories that can't be found unless you drill down four or five levels.
| | |
| --- | --- |
| Old Menu | New Menu |
 Pay Premium
There are several resources available to Participants that were scattered across several menus in the previous version of the website. Now, there is a single TOOLS menu which includes Pay Premium should you desire to pay your COBRA or Dependent Premium online.
| | |
| --- | --- |
| Old Link for QuickPay | New Link for Pay Premium |
Google Search
The search engine on the old version of the website was antiquated and designed using very old technology with limited capabilities. A whole new search engine has been installed that will yield far better results. Instead of a text box in which to field queries we now use the industry-standard magnifying glass icon. Give it a try; we think you'll be pleased with the results.
| | |
| --- | --- |
| Old Search Box | New Search Icon |
New Search Box Expanded

Slideshow
One of our primary directives in formulating the new site was to make it cleaner and more easily navigable. We also wanted it to be more immediately informative, so that when a Participant first comes to the site they aren't overwhelmed with visual clutter. In order to accomplish both these ends, we completely redesigned the slideshow at the top of the page. We made it cleaner and easier to navigate.
| | |
| --- | --- |
| Old Slideshow | New Slideshow |
News
If you want to know what's going on at the PWGA, new programs, better ways to handle common issues, etcetera, you will find current "news" stories setting forth relevant recently updated content on the website.

Footer
If you look at the bottom of the screen, you will see new, better, and more refined ways to communicate with the PWGA. In addition to a new presence on all the major social media platforms, we now have an encrypted email link so that you can communicate with us directly, with the assurance that your privacy will be protected.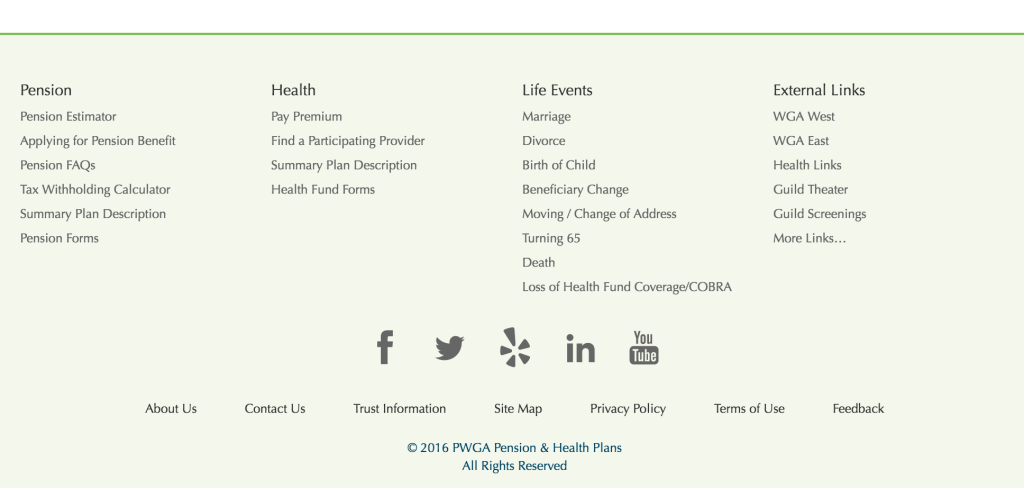 Helpful Links
Throughout the newly redesigned website, you may notice that some words or technical terms are highlighted. If you click on these highlighted words, you will be linked to a more detailed explanation. This should prove particularly useful when dealing with some of the more technical aspects of the Health and Pension Plan(s).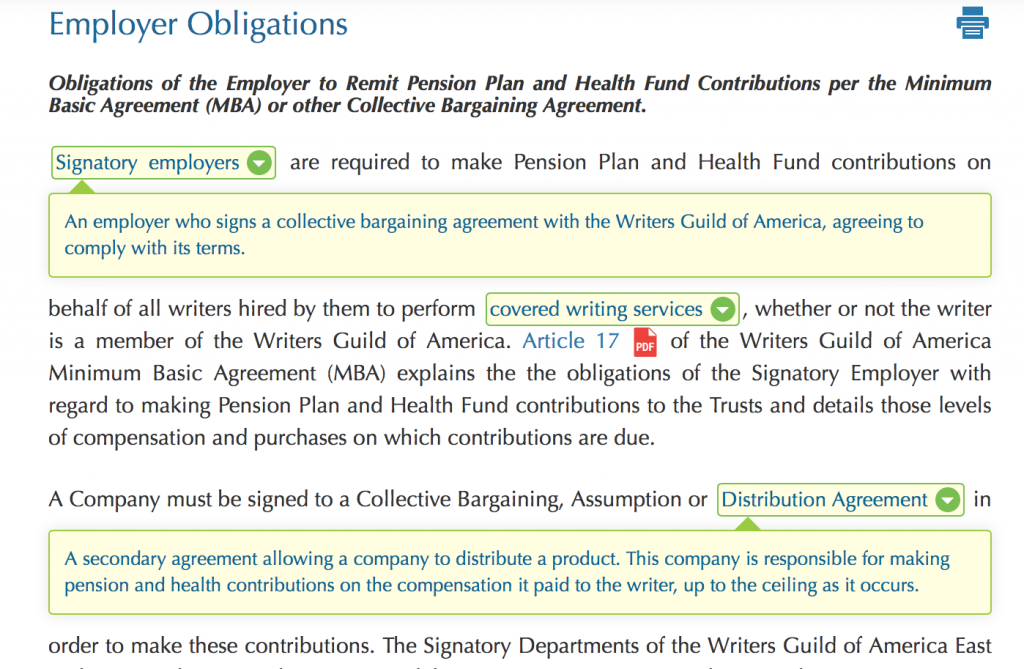 Feedback
We hope you enjoy the capabilities of the newly designed website for many years to come. We are working hard to bring improvements – large and small – and would welcome any feedback you care to offer. Click here if you would like to fill out a quick, 100% anonymous survey. This Feedback link is located in the footer of every page on the site.