OUT OF THE COUNTRY MEDICAL CLAIMS USING THE BLUE CROSS WEBSITE
You can file a claim using the Blue Cross website dedicated to out of country claims: https://www.bcbsglobalcore.com/Account/Login
The website will walk you through the registration process, and then direct you to the claims section.
OUT OF THE COUNTRY MEDICAL CLAIMS USING THE BLUE CROSS APP
If you want to use a dedicated app, Anthem has one; it's called Sydney. You go to www.sydneyhealth.com where you will be presented with the option to download and install either an Apple or Android version of the app.
Once the app is installed you simply open it and follow the instructions for filing a claim: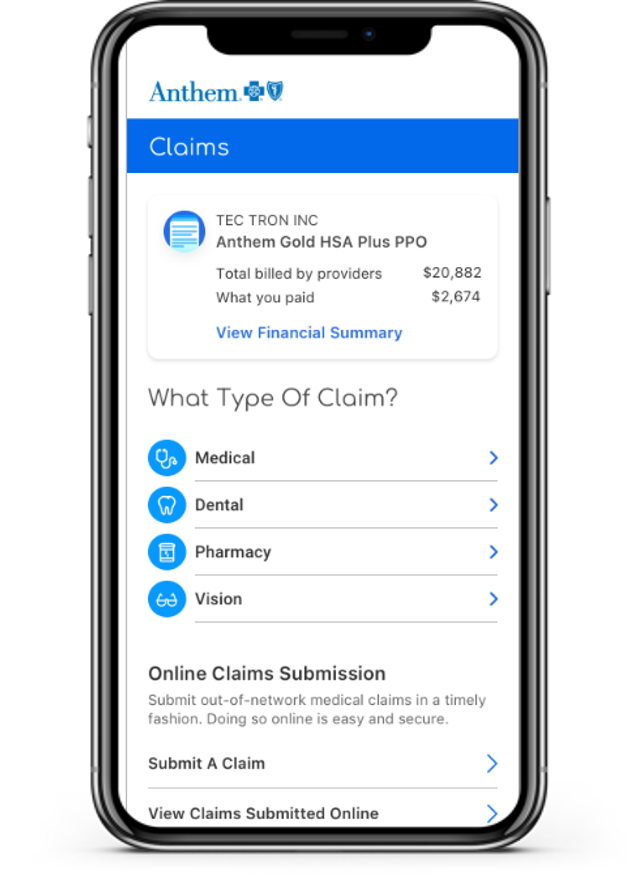 OUT OF THE COUNTRY MEDICAL CLAIMS USING EMAIL
You can speed things up by using email rather than old fashioned paper mail services. You will still have to gather all the documentation described above. But once you have done that and scanned the documents into PDFs, you can email your claim to: [email protected]
While this is faster than using standard mail services, it is still a time consuming process. This is why we worked with Blue Cross to provide you with a better, more timely solution.
OUT OF THE COUNTRY MEDICAL CLAIMS USING MAIL
For outpatient and doctor care, or inpatient care not arranged through the Blue Cross Blue Shield Global Core Service Center, when abroad you may need to pay upfront. Complete a Blue Cross Blue Shield Global Core International claim form and send it with the bill(s) to the Blue Cross Blue Shield Global Core (the address is on the form).
When you are out of the country and decide to file a claim via paper, you will need to include the following items:
PROVIDER INVOICE

This is the invoice you receive for services performed. You may have to request it if it is not automatically given to you at the time of service. Without this, the claims process cannot proceed.

Each foreign claim filed with BlueCross Blue Shield Global Core should include the following information:
Participant's Name
Participants Health Fund ID Number (as it appears on the Health Fund ID Card)
Provider's Name
Provider's Address
Patient's Name
Patient's Date of Birth
Procedure Code/Description of Procedure(s) (if provided by doctor)
Diagnosis Code/Description of Diagnosis (if provided by doctor)
Amount Paid
ASSOCIATED MEDICAL RECORDS

This is also a necessary to get reimbursed. If there were X-Rays, blood tests, etc., you will need to provide the official medical records in order to get your claim processed.


PROOF OF PAYMENT

You will need to provide proof of payment in order for a claim to be processed. A credit card statement or copy of the cancelled check should be sufficient. If you pay in cash, make sure you get an itemized receipt.
Once you have gathered all the necessary documentation, send it to:
Blue Cross Global Core
PO BOX 2048
South Eastern Pennsylvania, 19399
CONCLUSION
As you can see, while there are many options available to you when filing a claim out of the country. The speediest option is going to be electronic: file through the Blue Cross Global Core website (www.bcbsglobalcore.com), or even better, use their dedicated app. In addition, Anthem provides website help at: 866-755-2680 (M-F from 8 am to 8 pm EST) and they also have a "How Can I Help You" option available via virtual Chat.
The PWGA has worked hard with our providers to make access for our Participants as easy and straightforward as possible. By using the electronic claim filing resources, you may be able to save weeks and weeks of aggravation and unnecessary paperwork.
We hope these new electronic options prove useful. As always, if you need help, please do not hesitate to contact the Claims Department at: (818) 846-1015 or toll-free (800) 227-7863 or via email at: [email protected].