Two Routes – Both Excellent Choices
VSP offers two ways to buy glasses. You can go to a store, try stuff on, see how it looks, decide what you want in the way of lenses, and place your order. If the shop is part of the VSP network, you will get a host of discounts and if it's not, to no one's surprise, you will pay more. This is the experience most everyone is used to.
Shopping via website is a relatively new phenomenon. But with many sites offering virtual try-on features so that you can see what a pair of glasses looks like on your actual face, the ability to accurately determine PD (the distance between a user's pupils – vital for lenses to work well), the prospect of an online purchase is more attractive and viable than it has ever been before.
Brick and Mortar
If you wear progressive lenses, and you shop top-of-the-line brands with all the top-of-the-line coatings, photosensitive materials and the like, you can easily find your total in the $700 plus range. Add a decent set of frames and you're looking at a thousand dollars, maybe more.
If you do your shopping at a VSP-network store there are some interesting, heavily discounted options. Most of the VSP stores have a wide variety of frames – Ferragamo, Rayban, Cole Haan, Nike, Bebe, Calvin Klein, Chloe, etcetera. In addition, in an attempt to get Participants to use the VSP "house brand" lens, Unity, VSP offers users a no-questions-asked six-month trial period.
Glasses are extremely personal, and no two people will experience lenses the same way. Unity's top of the line progressive lenses (Unity Via Elite) get excellent reviews; they are often compared favorably to such better-known brands as Zeiss, Hoya and Essilor. What really makes the choice of a Unity lens easy is that at any time during the first six months, if you don't like the lenses for any reason, you just bring them back to the VSP store where you bought them, and the store will replace them with the brand of your choice – at no additional cost.
Contact lenses are available at many stores, and single vision lenses (as opposed to progressive designs, bifocals, etcetera) are far less costly, even with state-of-the art coatings and high-quality materials. As with progressive lens designs, even single focal design lenses can be replaced with something other than Unity.
The Online Experience
It is sometimes difficult to parse the technical language of a medical benefits program into the reality of purchasing a frame or frame and glasses. VSP alleviates this by allowing a website (www.eyeconic.com) to use your actual benefits and apply them to a pair of frames/lenses you might be interested in. Here is what the Eyeconic website looks like before benefits are applied: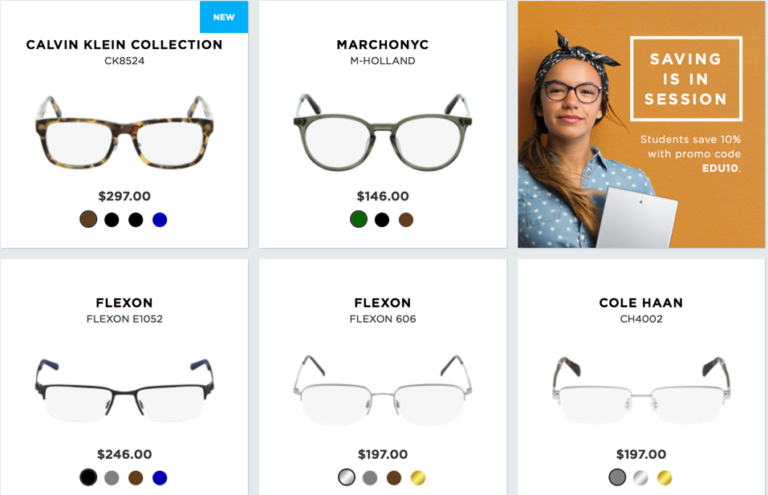 VSP allows you to easily plug in your personal benefits to see what you will actually pay once those benefits are applied. As you can see below, the discounts are substantial: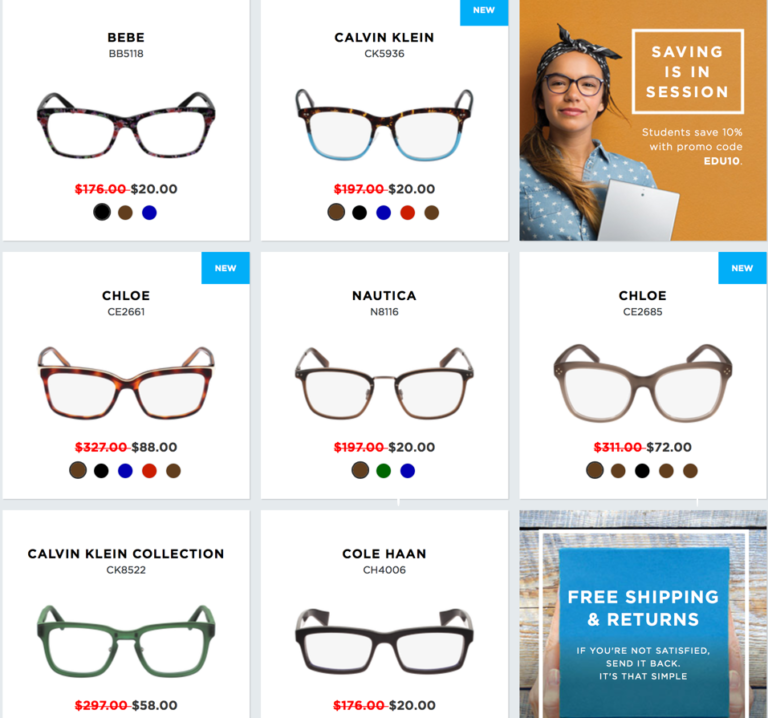 How do you get the Eyeconic website to apply your actual benefits to their glasses? It's actually pretty easy. When you first arrive at the Eyeconic website you are presented with a link:

If you click on "SHOP EYEWEAR" you will be presented with the following: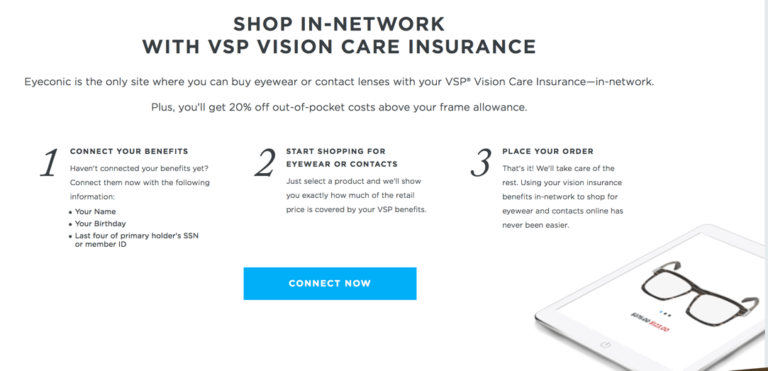 If you click on "CONNECT NOW" and you already have a VSP account, your benefits will load to the Eyeconic website. If you don't have an account on the VSP website (www.vsp.com) it only takes a few moments to set one up. You'll know everything is working when you get the following screen: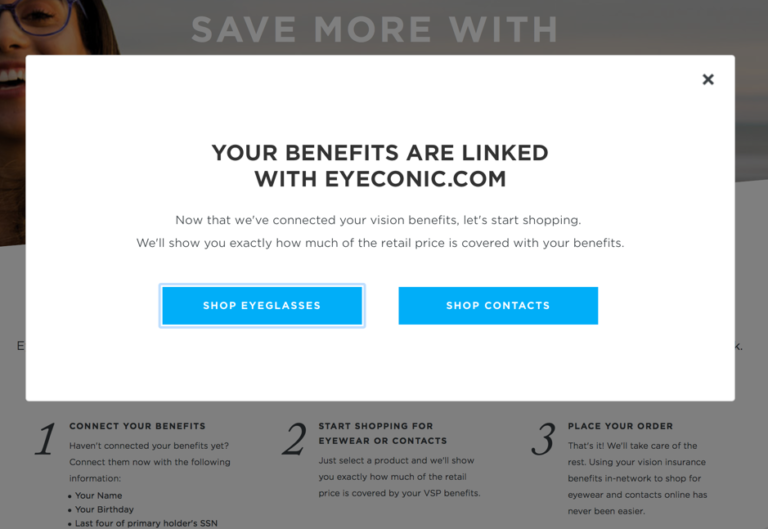 Eyeconic does some other cool things as well. If you want, the website will walk you through taking a photo of yourself so that you can see the frames you are interested in on your features, not a model's. And it will also help you measure your PD (pupillary distance) which is critical to getting an accurate fit: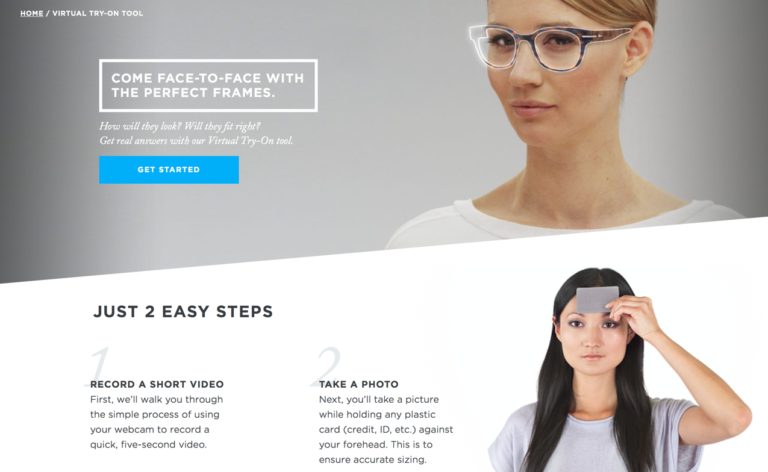 VSP has a generous return policy, so if you want to try the website but aren't sure it's really going to work well for you, it's easy to return the glasses if you're unhappy with your purchase. VSP and the Eyeconic website make it as painless as possible: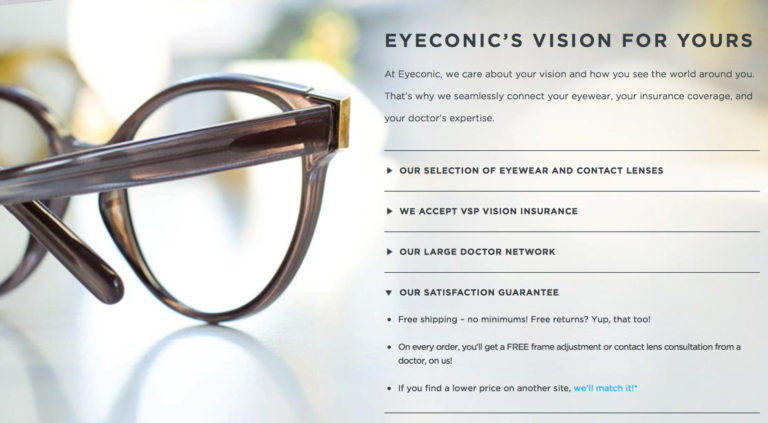 If you've ever wondered what it would be like to buy a pair of glasses online, VSP and Eyeconic make it about as easy as possible. Give it a try; you might just like it.